photos and Specification
Specification
Description
ABOUT GALEON 470 SKY
The Galeon 470 SKY can be fitted with all the amazing innovations of the 500 series in a more compact package. With bespoke interiors, great performance and handling Galeon 470 SKY is sure to please all yacht enthusiasts. This daring, new design clearly shows the bold path Galeon has taken to propel its yachts into the future. Once again fitted with an automatic bow settee area that swiftly morphs into a sundeck, a cockpit roto-seat, and everyone's favorite feature - the Beach Mode, be sure the Galeon 470 SKY will make the most of the space available on board.
Inside Galeon 470 SKY, find yourself in a world of luxury with a quality finish all Galeon yachts are known for. Customize the interior of the Galeon 470 SKY with a variety of available woodwork and fabrics and select from a wide range of available options and equipment to truly make it your own.
Guests can be entertained on the main deck that features a dining area and a full-sized kitchen or take respite down below in one of the three cabins on board Galeon 470 SKY. The spacious master is located midship and offers access to an en suite bathroom for extra privacy.
Several engine options and propulsion types, including the IPS drives allow to strike a perfect balance between great fuel economy and sporty performance. The Galeon 470 SKY yacht joins the already extensive lineup of Third Generation units available and is sure to make a long-lasting impression with its unique combination of substance and style.
The Galeon 470 SKY shows innovation and maps a new direction for modular luxury crafts.
View all
yachts for sale
KEY FEATURES
Great handling of the sport-oriented 470 model
The Bow rest area offers proper seats with back support
Increase the functionality with the innovative Beach Mode option
A bright and welcoming interior shows attention to detail
The dinnete and rest area, notice the large sunroof above
The huge windows offer extraordinary views more typically associated with a larger yacht
A large cockpit can also fit a 360° rotating sofa
DECK PLANS
Main deck

Lower deck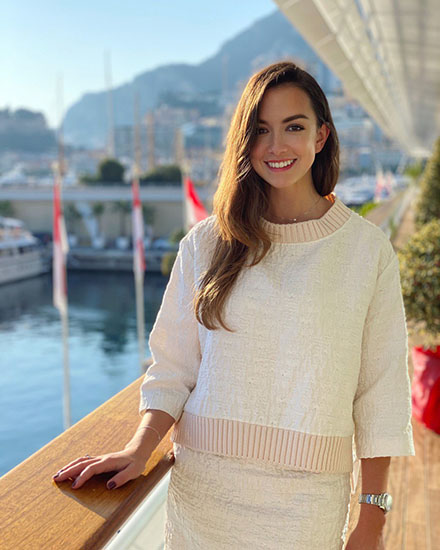 Maria Razumi
An experienced yacht broker since 2012, Maria Razumi specializes in new construction, brokerage, and charter services. Fluent in English, French, and Italian, she effortlessly connects with a diverse clientele. For more than 10 years, Maria has been dedicated to making yacht dreams a reality. Whether you're exploring new builds, buying, selling or arranging charters, Maria has the knowledge and skill to guide you.
GALEON 470 SKY
Galeon
Price on request