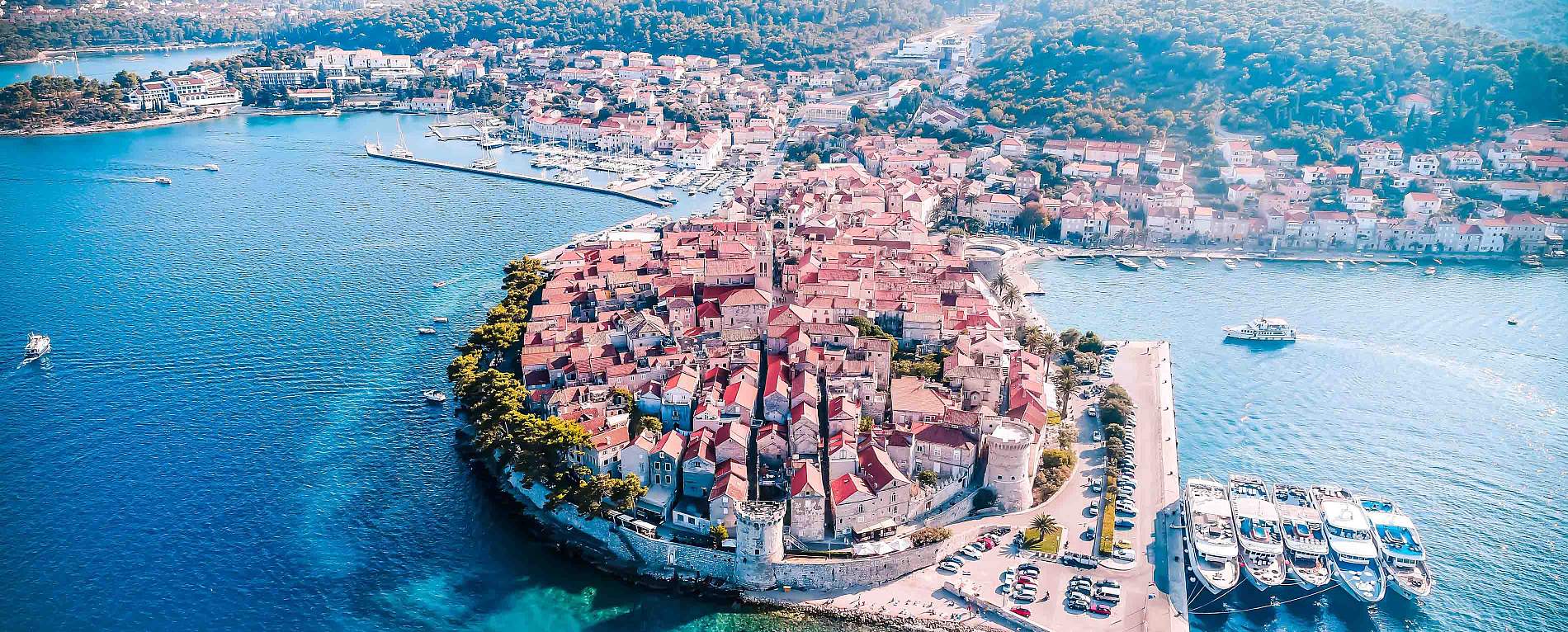 Croatia's evergreen dense forests, the splendor of the seaside, many historical sites and cozy secluded beaches will give you the best experience and unforgettable travel memories

One of the most scenic sailing destinations in Europe
On your yacht trip, you will be able to visit the most beautiful sites of Croatia and enjoy cultural and leisure activities
Destination description
Croatia is one of the most scenic sailing destinations in Europe.
You will be enchanted by lush natural landscapes, many historical sites, the beauty of the seaside with a huge number of islands, fabulous castles and dense emerald forests.
On your yacht trip, you will be able to visit the most beautiful sites of Croatia and enjoy cultural and leisure activities.
Split
The picturesque resort town of Split is included in the Unesco world cultural heritage list. It is the largest city in Croatia on the Adriatic coast, the history of which began in 305.
The architecture of the city is unique, the main attraction is Diocletian's palace, inside which the Temple of Jupiter is perfectly preserved.
Split also offers numerous seafood restaurants and tart local wine.Split's vibrant nightlife is observed in the area of the sea station.
Hvar
Hvar is the longest and sunniest island in the Adriatic. Small medieval towns, numerous coves and lavender scent everywhere, lush subtropical vegetation and a mild climate make this island one of the most beautiful holiday destinations in Croatia.
The main attraction of the port city of Hvar is the Cathedral of St. Stepan.
The island's restaurants offer a variety of local seafood dishes that are typical of any island in the region.
Korcula
The town of Korcula is known for its outstanding cultural and historical heritage and the birthplace of the famous traveler Marco Polo.
Korcula is surrounded by lush vegetation of evergreen trees, macchias, flowers and is famous for its picturesque bays and coves, centuries-old pine forests, beautiful underwater world and many cozy beaches. It is the oldest wine-making center in the world that offers a wide range of restaurants with high-quality service and Dalmatian cuisine.
Mljet
Most of the picturesque island of Mljet is surrounded by lush greenery. In the National Park, located in the western part of the island, there are stone caves, numerous beaches of sand and pebbles, salt lakes, ancient dense pine forests, and a lot of various fish.
Dubrovnik
Dubrovnik is a beautiful city with a rich history. It is famous for its magnificent old town, one of the most beautiful places in the Adriatic.
The old town is surrounded by massive 16th century stone walls. Beautifully preserved historical buildings await you: the Baroque Church of St. Blasius, the Renaissance Sponza Palace and the Rector's Gothic Palace, which now houses the Historical Museum.
The limestone pedestrian Stradun Street is full of shops and restaurants.
Croatia's evergreen dense forests, the splendor of the seaside, many historical sites and cozy secluded beaches will give you the best experience and unforgettable travel memories.