RJ 115 'Stellamar' Shines at Cannes Yachting Festival & Monaco Yacht Show 2023
In the dazzling world of luxury yachting, the RJ 115 yacht 'Stellamar' emerged as a shining star at the Cannes Yachting Festival and the Monaco Yacht Show in 2023. This remarkable vessel is a result of a collaboration between the esteemed Cantiere delle Marche (CdM) team and the Florentine designer Francesco Paszkowski.
The RJ 115 is part of the prestigious RJ explorer yacht series, which has gained immense popularity. All the models in the RJ line share a distinctive personality marked by well-balanced volumes and proportions, as well as innovative features such as the intriguing "invisible crane."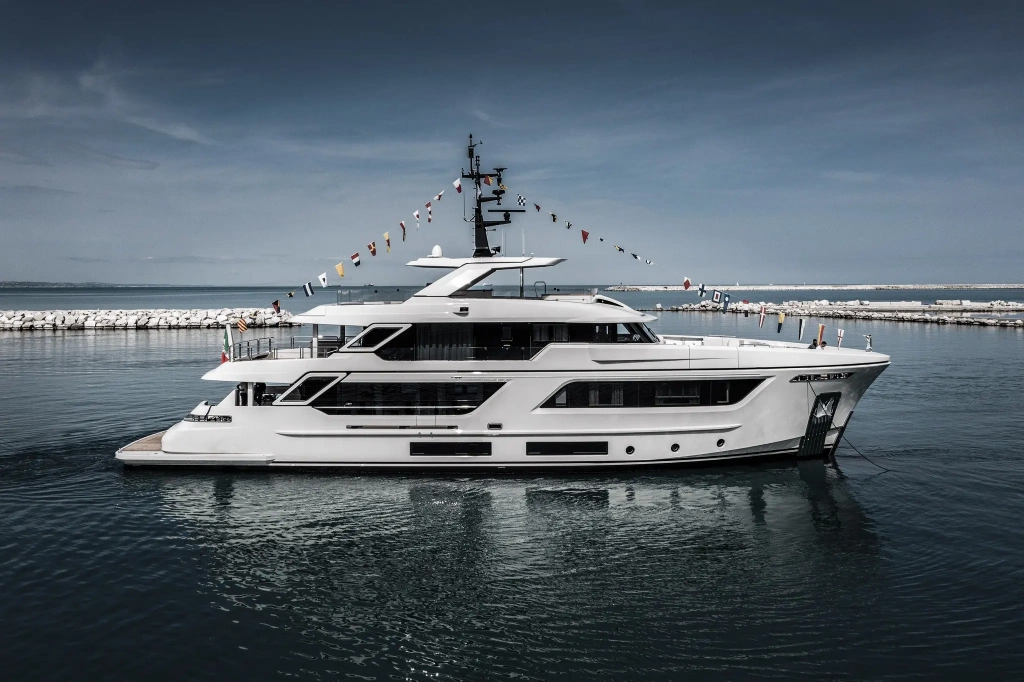 A defining feature of Stellamar is her extensive use of glass in the bulwarks and the open stern, creating a seamless connection with the surrounding environment. CdM describes Stellamar's profile as "tense" yet elegant, with sensuous lines that enhance her exterior design.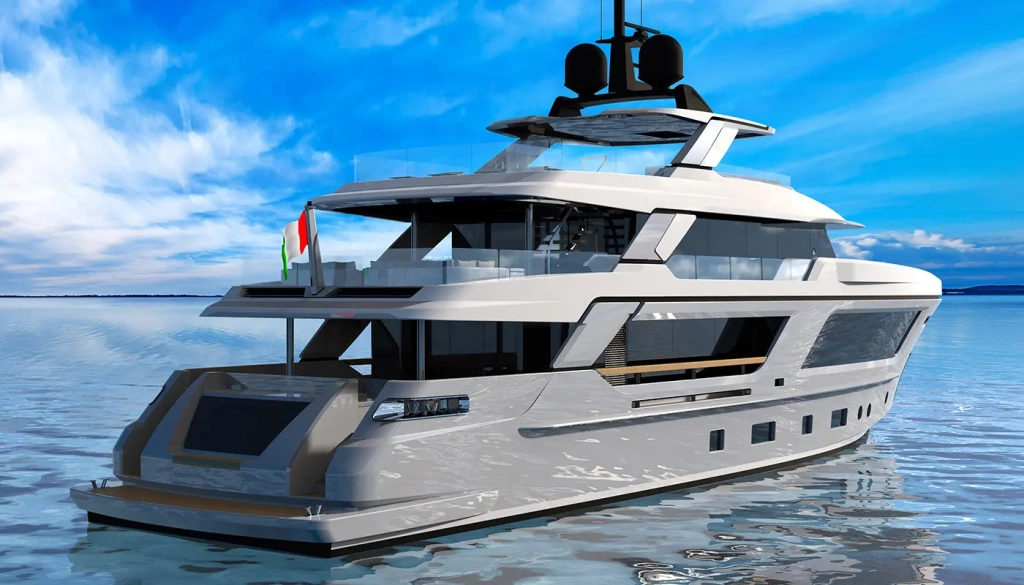 Francesco Paszkowski's vision proves that medium-size dimensions are not a hindrance to creativity; instead, they enhance it. The RJ 115 yacht, at 35 meters (115 feet) in length, offers expansive spaces and luxurious amenities while staying true to its explorer yacht roots.
Vasco Buonpensiere, the co-founder and CEO of Cantiere delle Marche, proudly states, "Throughout the years, we have shown the market that we are able to build true explorers that have both the elegance and style of a luxury yacht. The solutions we have implemented to make the RJ line meet all these requirements are once again propelling CdM's explorer yachts forward."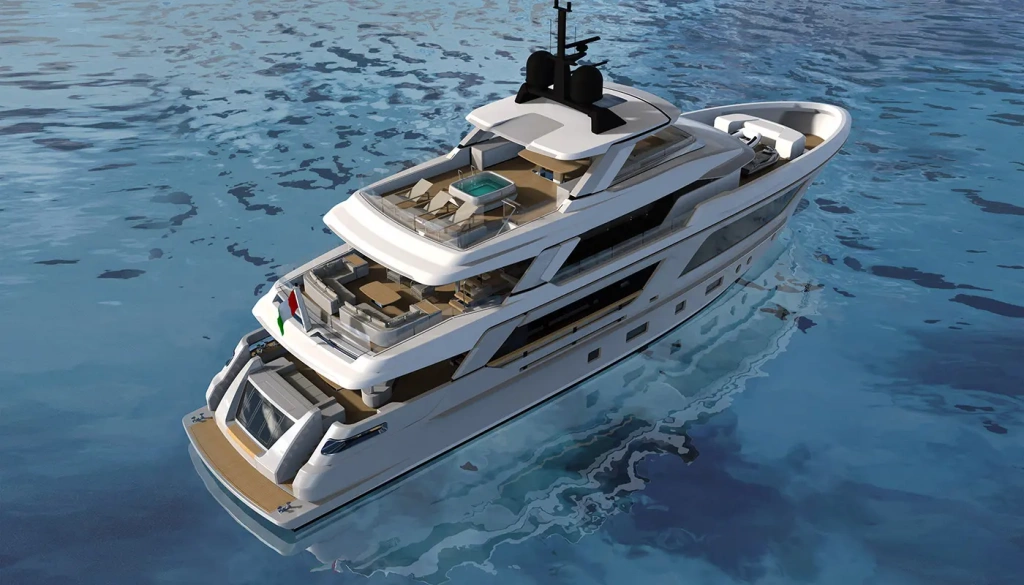 The RJ115 is not just an exquisite vessel; she is an elegant, robust, reliable, and environmentally friendly long-range explorer. Her technical equipment is unparalleled, allowing the owner, family, and friends to embark on safe journeys to the world's most remote and secluded destinations. CdM has not only harnessed the expertise of its in-house design and engineering team but also leveraged its long-standing partnership with Hydro Tec for naval architecture.
The interior layout of the RJ115 motor yacht has been meticulously tailored to the owner's family's specific needs. It accommodates eight guests (with room for two more) in four lower-deck cabins, along with a master stateroom on the main deck forward. A crew of seven has dedicated quarters on the lower deck, with the captain's cabin conveniently located next to the wheelhouse on the upper deck. The layout emphasizes easy circulation and a seamless connection between decks, with all exterior stairs positioned on the port side and expansive side walkways. The emphasis on outdoor areas is evident, with large lounging and dining spaces on all decks. Whether in the main or upper salon, guests remain in touch with the outdoors, thanks to vast windows that flood the rooms with light and visually connect them to the surrounding sea.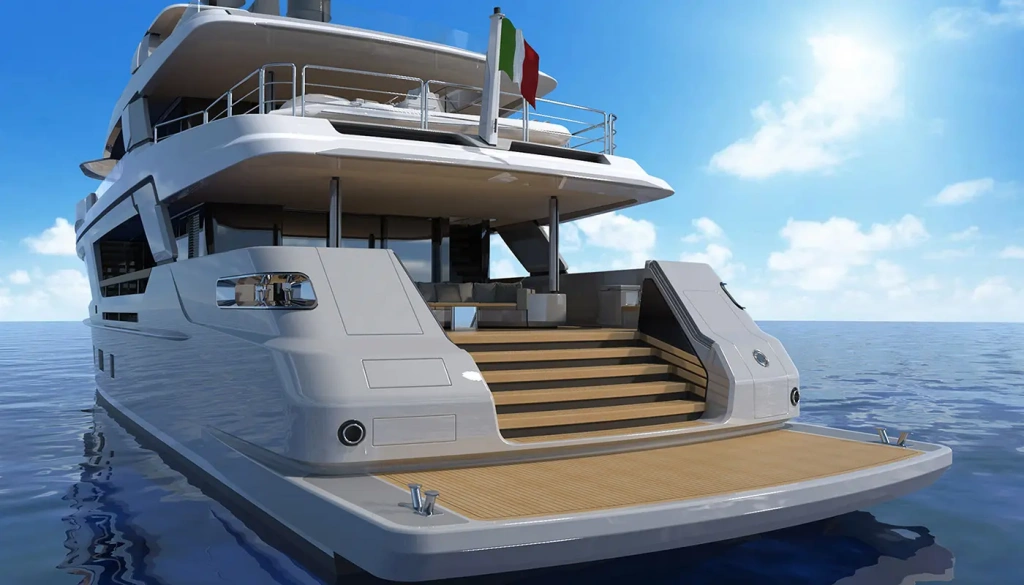 On the lower deck, natural light and captivating views are not limited to the upper decks. All four guest cabins on the lower deck, including two VIP and two twin cabins, are bright and airy, thanks to large windows.
The RJ 115 is a full-displacement explorer vessel with a steel hull and aluminum superstructure. With a total length of 35 meters (115 feet) and a beam of 7.5 meters (25 feet), she boasts a displacement of 283 tons. The yacht is powered by twin 715-horsepower Caterpillar C18 Acert engines that comply with U.S. EPA Tier III and IMO Tier II emission standards. Its substantial 11,888-gallon fuel tanks grant it an impressive range of around 5,500 nautical miles at an economical speed of 9 to 10 knots. Stability is ensured through purposefully designed hull geometry and electric-driven stabilizers.
Cannes Yachting Festival 2023
From September 12th to 17th
Vieux Port and Port Canto, Cannes
Your Definitive Guide to the Cannes Yachting Festival 2023
Monaco Yacht Show 2023
From September 27th to 30th
Port Hercule, Monaco
If you're interested in booking a tour at the Cannes Yachting Festival or Monaco Yacht Show with one of our brokers, please contact us by email:
assistant@smartyachts.com