Fiart Mare and its boats
Fiart Mare has been building pleasure boats for over 60 years. The company's name includes the abbreviation FIART, which in English means 'Italian thermosetting resin companies'. When the global yachting industry was still exploring the potential of thermosetting resins, Fiart Mare was one of the first boat builders to use it. In 1960, the company's founder, engineer Ruggero di Luggo, launched the Conchita, an open type boat 3.6m long which quickly gained popularity amid growing interest in water recreation: 60 orders were placed in the first year.

"It is no longer a luxury product, but something for everyone, like the Fiat 500 Cinquecento," said Ruggero di Luggo, who has been at the helm of the company for over half a century. The company has produced over 130 different models to suit all budgets and they have been a resounding success. In the last decade the Ruggiero family has focused on the production of luxury, high speed 10-18m boats.

Fiart Mare is located on the coast of the Bay of Naples: the headquarters are in Naples and the production facility, which covers over 50,000 square metres, is in Baia. The company has its own design centre, a test pool and is intended to open a service centre and museum. Fiart Mare closely cooperates with famous designer Francesco Guida and the Swedish company Volvo Penta (the yard was one of the first to install IPS on its boats). In the recent years, the shipyard has been actively expanding its production in the European and Middle Eastern markets, opening a network of dealerships with after-sales service and, more recently, making boats of this brand available in Russia thanks to Smart Yachts, which has become an official dealer of Fiart Mare in Russia, Monaco and Estonia.

Today the shipyard builds three lines of boats: small open cruisers Seawalker, sporty Classic boats in Granturismo style and larger yachts of Cetera line with innovative design. For all models the manufacturer offers a wide range of layouts, options and colours to allow customers to express their individuality.
Seawalker
The range consists of three 11-13m open plan cruisers with refined contemporary styling, neat surfaces and walkaround layouts. The boats can be equipped with a hardtop, which is a useful option in our waters. Customers have a choice between outboard engines and Volvo Penta IPS motors with a capacity up to 650 hp (for the senior model). The boats are fast (maximum speed of 42 knots) and completely self-sufficient, allowing guests to comfortably spend the days and nights on board, while all three models are also well suited to superyacht tenders.

"The Seawalker is a true private 'island on the water' where family or friends can enjoy water 'toys' and sunbathing. The perfect boat for a weekend or a tender for your superyacht." - Julia Skoptsova, founder of Smart Yachts.

The new Fiart 35 Seawalker (11.52m), designed to take the "entry level" position in the range, seems to have gathered all the know-how of the yard in recent years, borrowing a number of design solutions and quality standards from the flagship 43 Seawalker. A centrally located helm station, stern sunbed and wetbar in between ensure ease of movement; in the bow is a cozy lounge with a semi-circular sofa. A movable multi-section swim platform is designed to make bathers as comfortable as possible. What's more, the boat stands out in a way that older models don't: the aft bulwark sections can be folded back for greater water contact.

In designing the area below decks, the designers removed the bulkheads (of all three models) and formed a vast space with two cabins - forward with a double bed and aft with two separate beds and a large bathroom with a separate shower. The maximum number of passengers is 10.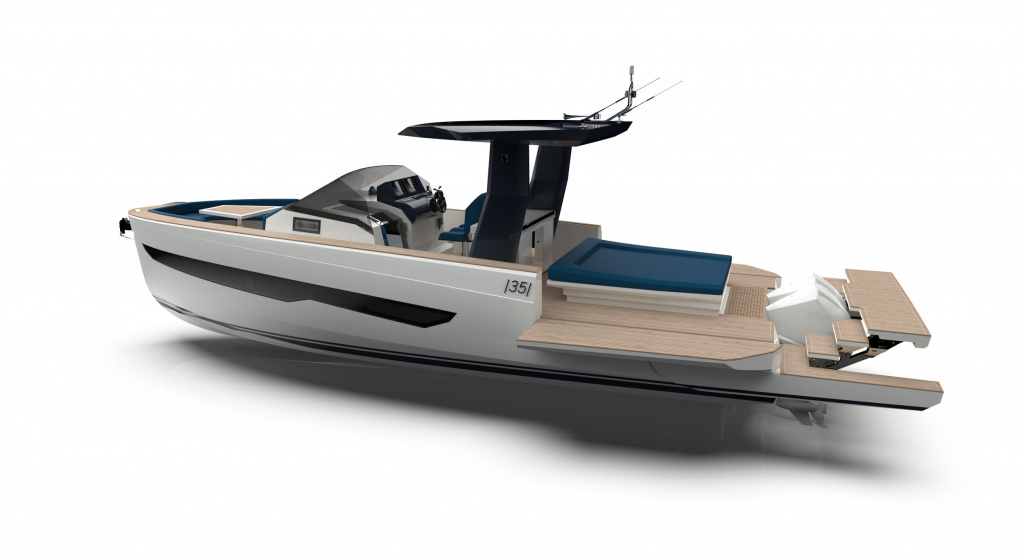 Fiart 39 Seawalker (reviewed on Julia Skoptsova's Instagram account) is 12.6m long and welcomes up to 12 people for a daytrip. She features an extended list of options and layouts: the aft cockpit can accommodate a table with two sofas or a transformer sofa that converts into a sunbed (also with a table). A comfortable saloon 2 meter high, instead of the aft cabin, provides sleeping accommodation for two. You can also choose colours of the hull and interiors.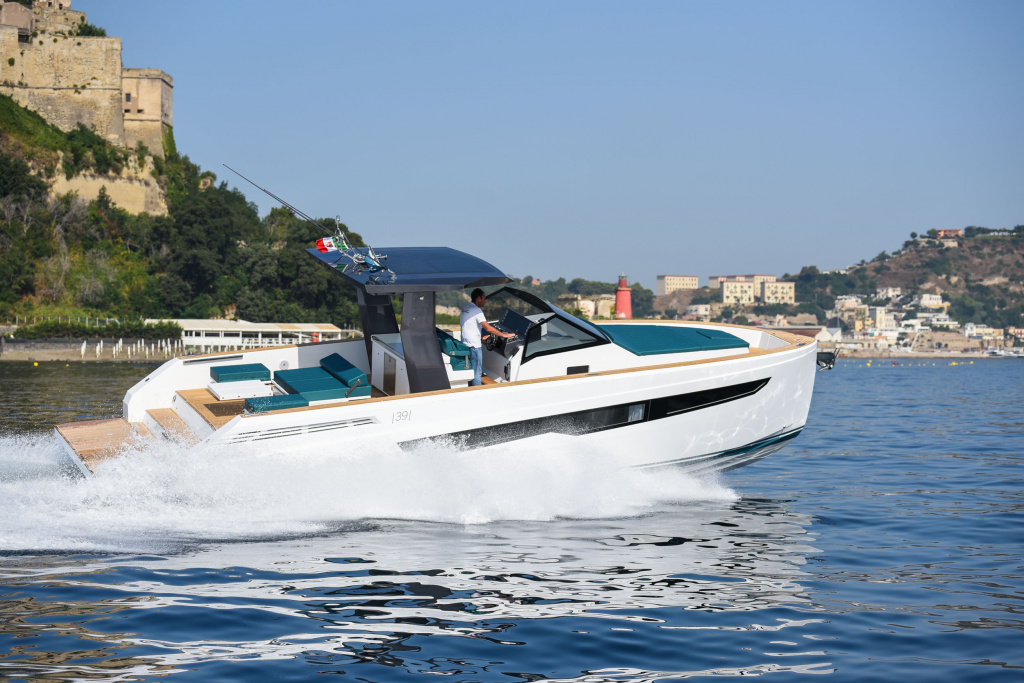 Fiart 43 Seawalker (see video reviews 1 and 2) with a bold hull almost 14m long was presented only a year ago, but has already won the recognition of the market. She is also very stable with a low centre of gravity, high sides and plenty of open space under deck, with 2.15m cabin height in the forward cabin, 2.1m in the bathroom and 1.8m aft cabin, impressive figures for a boat of this type! As for the flagship of the range, the number of options is at a maximum. For example, the cockpit can be equipped with bimini awnings and a retractable section in the hardtop, various combinations of sofas, sunbeds and tables to arrange a comfortable aft lounge area; you can install an extended (1200mm instead of 600mm) swim platform.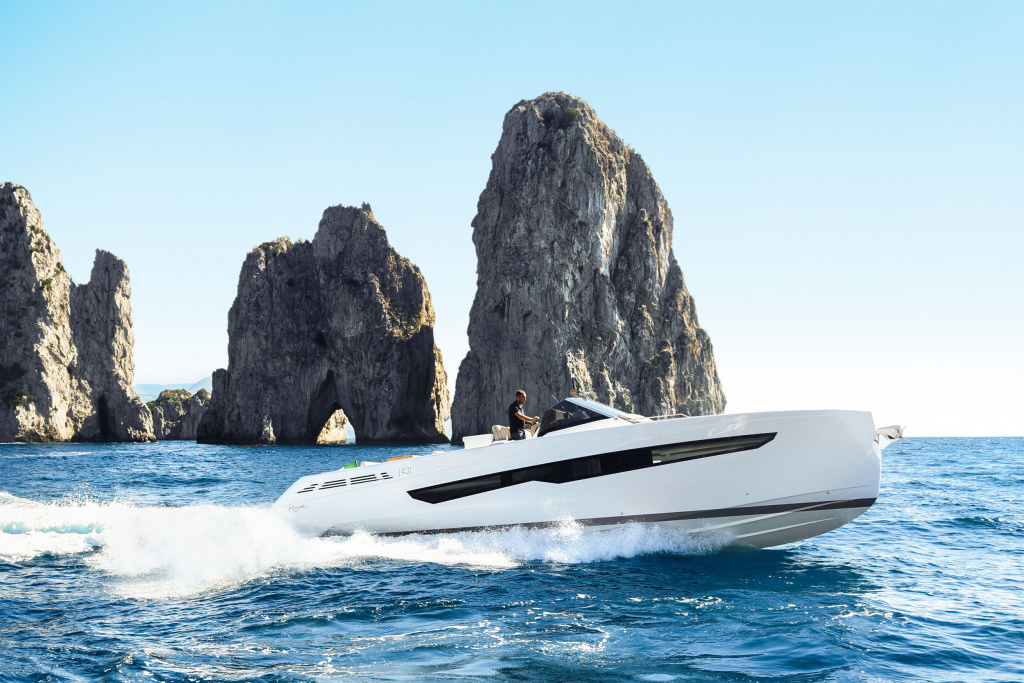 Classic

Classic are three tried-and-true hardtop cruising yachts from 13.5m to 16m with an open deckhouse aft, featuring a trademark profile with a raised deck line to the bow that benefits the accommodation below deck. The deckhouse roof features a fabric or composite sunroof, and a retractable gangway can also be installed to access the water directly from the aft settee or to dive in the water. Despite the relatively small size, each model features an aft captain's stateroom that can be converted into a storeroom or dressing room. The yachts are equipped with 375-600 hp Volvo Penta IPS engines.

"These fast, manoeuvrable boats are a pleasure to sail by yourself and, thanks to the excellent organisation of space on board, they are perfect for accommodating a large group of people." - Nikita Obukhov, Head of Sales at Smart Yachts.

At only 13.86 metres in length, the 44 Classic is cleverly configured with three double cabins (master cabin forward, guest cabins amidships) and two bathrooms with shower. The cockpit features a large U-shaped settee aft with a raised table (convertible into a generous sunbathing area) and a comfortable sunbed on the foredeck. The lower deck features a fully equipped galley and lounge area with a convertible sofa. She welcomes up to 14 guests.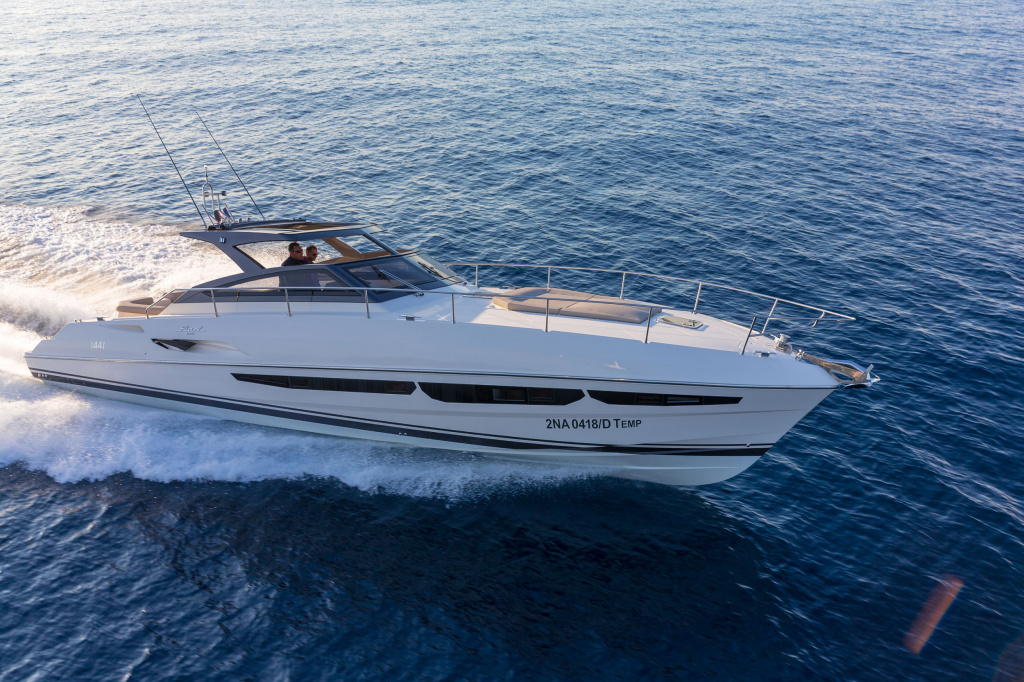 Fiart 47 Classic (video). The large sunroof in the hardtop folds away at the touch of a button, turning the 14.65m long boat into a 'convertible' cruising at 35 knots. Below deck, the unconventional layout provides a total of four cabins (guest cabins with 2.1m cabin height), a galley, two bathrooms and a mini lounge.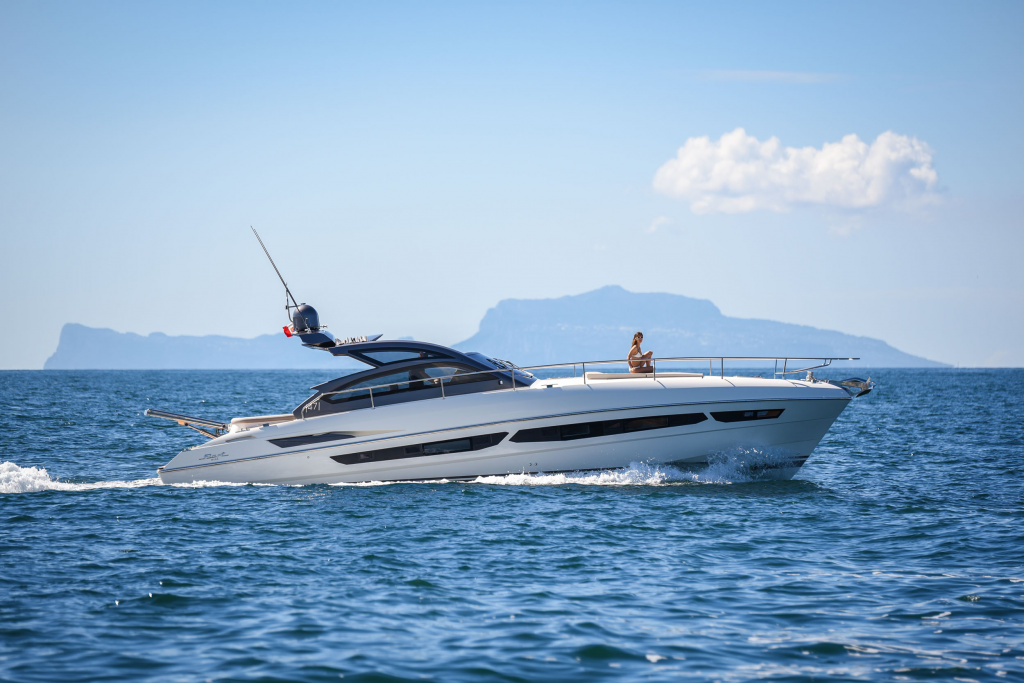 The Fiart 52 Classic (see video review), the flagship model (17m), is available in two versions: an open cockpit and a closed saloon. She differs slightly from her smaller sisters in hull design, with larger glazing, an aft tender garage and accommodation for up to 16 people. On the lower deck there are three bright double cabins with 2 metre cabin height; there is no saloon, but the full beam master suite at amidships has a private bathroom.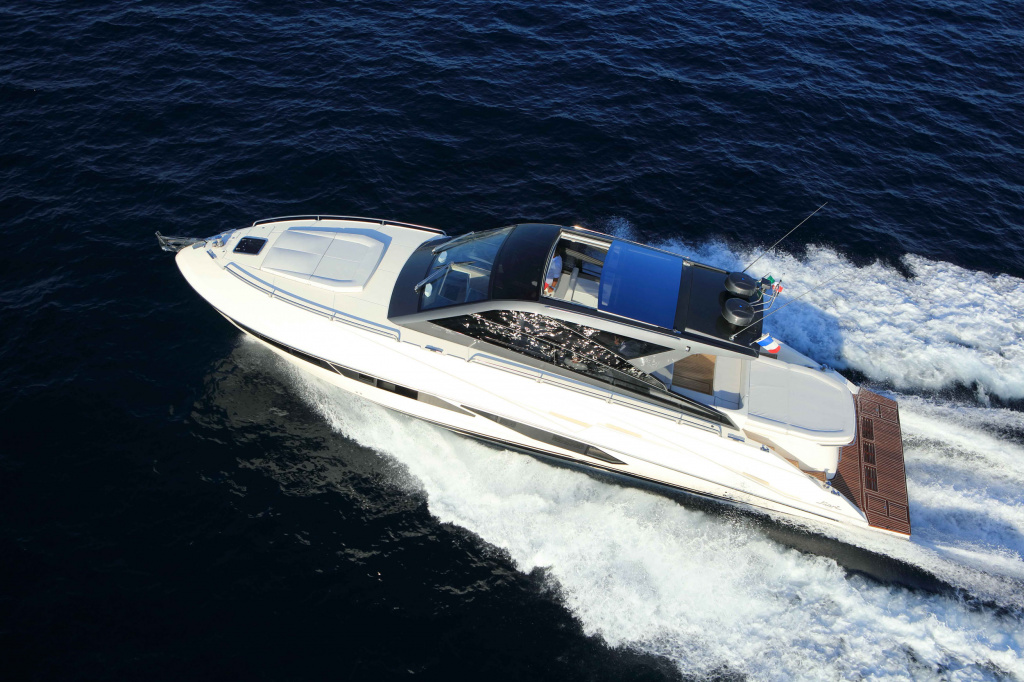 Cetera
The Cetera 60 (see video review), which premiered at boot Düsseldorf 2019, is so special that it has given rise to a new brand - Cetera Yachts. The three-deck displacement yacht is designed by Francesco Guida to launch a completely new category of yacht, combining the design features of lobster boats and flybridge cruisers.

The rather large yacht stands out for its unusual multi-space layout. The designers have changed the traditional view of deck layout with the guest suites raised on the main deck, the galley on the flybridge, and leaving only the technical and crew areas on the lower deck. This arrangement certainly benefited the guest cabins, with larger windows, higher ceilings and better soundproofing, and also eliminated the need for a gangway. On most yachts of similar size you have to choose between a crew cabin, laundry or garage for the tender, but on the Cetera 60 you have all these. While for a superyacht this arrangement is commonplace, for a boat of just over 18m it was a bold decision that provided 30% more space than most flybridge yachts of this length.

All main deck areas (three cabins, saloon and relaxation areas aft and foredeck) are connected by a central passage, with a spiral staircase linking the decks. An enclosed flybridge houses the galley, an eight-person dinette and a control station. The sliding sunroof and opening windows will certainly be appreciated by guests, who can dine alfresco and enjoy the panoramic views or relax along with the skipper.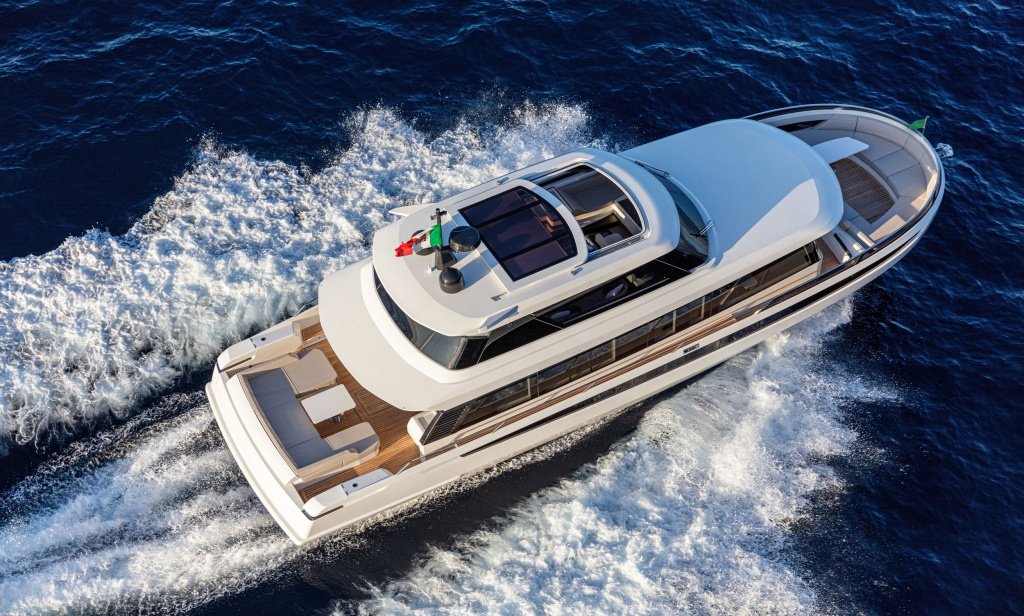 A variety of propulsion options are available up to two Volvo Penta D8-IPS 800 (maximum speed 28 knots). With a pair of 550hp Volvo Penta D8-IPS 700s, the yacht reaches a maximum speed of 23 knots. At 10 knots, the fuel consumption is approximately 60 litres/hour, which based on the extended fuel tank capacity (2,000 litres) giving a range of 300 miles.

The Cetera 60 and all three boats of the Seawalker family will be on show at the Cannes Boat Show in September, with the 35 Seawalker and 39 Seawalker being the world premiere boats. Come to the show and see for yourself: Fiart Mare knows how to build boats unlike any other.

Source: https://mby.ru/yahty/obzory-i-testy/fiart-mare-i-ee-lodki/